So am I am sure some of you have heard, I'll be teaching a continuing education class at Central Piedmont Community College starting this fall involving comics. I'll be teaching the first two classes going towards a Visual Narrative certificate.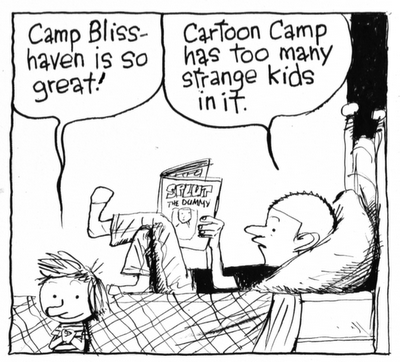 Art by Richard Thompson
It will be strange being on the other end of that desk. I know I'm ready for it though and I've been making lessons plans for the class. Since I've been told that these classes are part of the continuing education classes at CPCC, classes designed for adults who want to learn new skills versus classes that go towards a degree, the classes won't be as strenuous as the ones I took at SCAD.
However, the head of my department wants these classes to work towards creating a 2 associates degree for comics so I'm basically laying the groundwork for this program. The first two classes will be what were Intro to Comics and Vis 1 on the same day. I'm not wild about doing that but it's how the program is set up for now which I don't have a whole lot of control over it. Next time we do these classes, I will probably talk to my boss to get a Materials and Techniques kind of class set up before the Vis 1 kind of class. It's going to be a tough road for these students especially if some of them have not drawn comics before but I will do my best to get them through it.
We'll be using two books, one in each class. I'll be using Jessica Abel and Matt Madden's
Drawing Words and Writing Pictures
for my intro type class. I haven't read this book but I will in the coming weeks. I've been to the website and looked through it (I'll be getting my copy soon) and it seems really geared towards the variety of approaches in comics. Knowing both Abel and Madden's skills as cartoonists I trust that the book will be fine.
For my Visual Narrative class, we'll picking apart Jim Rugg's
Street Angel
. I've been a big fan of this book ever since I read it and I think it's the perfect book for a young cartoonist to pick apart. Rugg is a pretty inventive and savvy cartoonist. I really want students by the end of the class to be able to pick apart comics and think of how to actively engage the medium. There's alot you can do with the medium and I want students to really understand the potential of it.
I'll also be posting over at blogspot for the class. I'm going to start interviewing a variety of cartoonists about topics related to the subjects I'll be teaching in class. I want students to hear from other cartoonists about process and craft. While I know alot about comics, there are areas where my knowledge and skill sets are limited. Thankfully, I'm not the only person making comics and I want my students to be able to get inside people's heads. I'll also post excerpts from my lectures on there so that people who can't take the class can see what will be going on in the class.
I'm really excited to start the class. They begin in a few weeks but I have a lot of work still left to do. However, I'm sure it will get done and things will be okay.